Background Information | Scholarly Information & Peer Review | Searching for Books | Searching for Articles | Finding Articles | Reading Articles | Citing Your Sources | Off-Campus Access | RefWorks | RefWorks and PubMed | Asking for Help |
Things to Remember!
Contact Prof. Lee Ann Fullington,
your Health & Nutrition Sciences Librarian, for help!
LAFullington@brooklyn.cuny.edu
718.758.8217
For assisting with the content of this guide, special thanks goes to:
Thomas DeAngelis, Science Information Intern, Fall 2014
Even before you start doing the research for your assignment, you may have to do a little research to come up with your topic, which is all part of the scholarly process. Though you may have a topic in mind for your research, it often helps to take a look at background information or do some preliminary research to get a feel for what is already known so that you can formulate your research question. Taking a look at overviews or background information is also a good way to find out if the topic you are interested in is suitable for your assignment or project.
Some good sources for finding background information and topic overviews include:
Gale Virtual Reference Library (GVRL) for online access to many encyclopedias. This is a great alternative to Wikipedia! Try also searching GVRL for specialized encyclopedias such as: Encyclopedia of Human Nutrition; Encyclopedia of Food and Culture; Gale Encyclopedia of Nursing and Allied Health; Nutrition and Well-Being A-Z.
MedlinePlus from the National Library of Medicine (NLM) offers overviews of conditions and useful, mostly consumer-level, links to resources from relevant associations and agencies.
Eatright.org, the Academy of Nutrition and Dietetics website, is another excellent resource. Useful US government websites include: Nutrition.gov and USDA Food and Nutrition Center.
Partners in Information Access for the Public Health Workforce (PHpartners.org) is a collaborative project between US government agencies, public health organizations, and health sciences libraries to collect up-to-date, credible, authoritative public health information and data, including nutrition resources, in one easily searchable website. The content is unbiased and carefully reviewed by experts and new information is added daily.
Definitions can be found in dictionaries and handbooks, and you can also try a "define:" search on Google (e.g. type in define: Mediterranean diet in the Google search box) that will reliably bring up a list of definitions.
Scholarly information is based in scholarship and research, and is produced by the scholars or experts in a particular field. Much scholarly material that is published in books and academic journals goes through the peer-review process in which a manuscript is reviewed by independent researchers (referees or peer-reviewers) to evaluate the contribution for authority and accuracy. You can read more about the difference between scholarly journals, popular or opinion magazines and trade publications here.
Use the library catalog to search for books at all CUNY libraries. If our copy of a book is checked out, you can have it delivered from another CUNY school by clicking the "Request a Copy" button.
Basic Search Types in the Catalog (Click on "Advanced Search" for more search options.)
All Fields
Search for your terms in the subject, title and author fields.
e.g. obesity and children Tip: Connect two or more keywords with and.
e.g. "community health services" and nutrition Tip: Use quotation marks to search for an exact phrase.
e.g. our overweight children and dalton Tip: Find books with title and author as key terms.

Title begins with...
Use when you know the exact title of a book.
e.g. why calories count
e.g. management of pediatric obesity and diabetes (not the management of pediatric obesity and diabetes)
Tip: Do not use initial articles (a, an, the, la, les etc.).
Tip: Type just the first words of a title, e.g. type in Community nutrition in action and this search returns the title Community nutrition in action: an entrepreneurial approach.

Author, last name first...
Use when you do not have a book title, or you want to find other books written by an author.
e.g. dimitri, carolyn Tip: Always type the author's last name first.
e.g. boyle marie a.
e.g. American Dietetic Association

Subject begins with...
Search the Library of Congress Subject Heading (LCSH) for your topic.
e.g. nutrition policy
e.g. community health services—United States.
e.g. curie marie Tip: Use subject if you are looking for books about someone their work. Tip: If you do not know the exact subject heading, try keyword subject or ask a librarian.
Keyword title
Search for your terms anywhere in the title. Placing quotes around key terms in the title of an item can help you locate it in the catalog.
e.g. "china study" e.g. macrobiotic e.g. "food safety"
Tip: Use when you don't know the exact title.
Keyword subject
Search for your terms anywhere in the subject field.
e.g. vegetarian
e.g. food policy
e.g. nutrition and children
Tip: Use when you don't know what the subject terms are.
The best way to find published, scholarly articles on your topic is to use an article database, which allows you to search by topic and see in which journal and in which issue an article appears. Some databases, such as Academic Search Premier, cover journals in many fields, while others (for example, Medline, PsycINFO, SOCindex, or CINAHL) only cover journals in a specific field.
Choosing a Database
The following is a list of the library databases most frequently used to find articles for nutrition.
PubMed (also searchable as Medline): the premier source for biomedical information. This database provides authoritative medical information on medicine, nursing, the health care system, pre-clinical sciences, human nutrition and diet, and much more. Created and maintained by the U.S. National Library of Medicine (NLM).
CINAHL (Cumulative Index of Nursing and Allied Health Literature): allied health literature covers topics in nutrition as related to disease and health. Subject areas include nutrition education, nutrition assessment, food habits, food poisoning, and food services.
Scopus: Scopus is both an abstract and a citation database containing more than 41 million records for peer-reviewed literature and quality web sources. The citation indexing is available from 1996 to the present, and the abstract indexing goes back as far as 1823. Disciplines covered include scientific, technical, medical, and social sciences fields, with some coverage in the arts and humanities.
SOCindex: offers comprehensive coverage for sociology, encompassing all sub-disciplines and closely related areas of study. This database will be helpful for research on food cultures, ethnic foods, food habits, and so forth.
PsycINFO: provides indexing and full text access to journal articles, book chapters, books, dissertations, and technical reports. The database covers psychology and related disciplines such as medicine, psychiatry, education, social work, social science, and organizational behavior.
Search Tips for Library Databases
Consider Your Topic
Having a clear, manageable topic for your research is key to research success. As you think about your topic, consider how you can specify the main concepts that are part of your topic. For example, if you are interested in whether vegans have trouble getting enough vitamin B12 in their diets, you can think about the "building blocks" of your question as:
| | |
| --- | --- |
| Vegetarian or Vegan | Vitamin B12 |
A search like this will find results about vegans and/or vegetarians that at least have a mention of B12 in the article. Doing a broad search at first and then adding more terms or limits to narrow your results down often makes for much less frustration.
Think About Keywords
Keep in mind that there may be more than one term that means the same thing, or something very similar. For example:
CVD or cardiovascular disease or coronary disease or heart disease
teen or teenager or adolescent or youth
folate or folic acid
You will also find keywords to try in your readings and in your notes from class. Synonyms are useful when you're doing searches.
Consider Descriptors (controlled vocabulary)
Many databases also use specific keywords or terms called descriptors that are assigned to articles on that topic. Once you know the descriptors for your topic it can make it easier to pull all articles on the same topic together at the same time. In many cases the descriptor will be the medical term – just be aware that terminology changes. You will find descriptors (often called Subject Headings) in database search results by looking at the individual records for articles. Many databases for the health sciences (PubMed, CINAHL) use the Medical Subject Headings (MeSH terms), so becoming familiar with the MeSH terms associated with your topic will be useful. To locate specific MeSH terms in PubMed, use the "MeSH" dropdown option from the search box. Click here more info about PubMed and MeSH terms. The PubMed Tutorial from NIH is an excellent way to learn how to construct effective searches in PubMed, or look at the NIH MeSH Tutorial for a quick overview.
Or it might look like this (with MeSH terms in PubMed):
"Diabetes Mellitus, Type 2"[Mesh] AND ("Child"[Mesh] OR "Adolescent"[Mesh]) AND "Obesity"[Mesh] OR "Overweight"[Mesh] AND "Diet Therapy"[Mesh]
Here are a few examples of keywords and their MeSH terms (some terms are more obvious than others!)
(Use the MeSH database in PubMed to identify search terms. See the PubMed Tutorial for more info or this short video on MeSH.)
| | |
| --- | --- |
| Everyday language | MeSH |
| Cardiovascular disease | Cardiovascular diseases |
| Breast cancer | Breast Neoplasms |
| Grapefruit | Citrus paradisi |
| Diet to lose weight | Diet, reducing |
| Elderly | Aged |

Combine Terms
Once you identify the terms (keywords or descriptors) applicable to your question or topic, put them together with Boolean operators such as AND (for more precision in your search), OR (to enlarge the pool of results when more than one situation is concerned), or NOT (to exclude possible elements that might jeopardize quality for quantity in your results. (Be careful using NOT though, as you may exclude useful results!)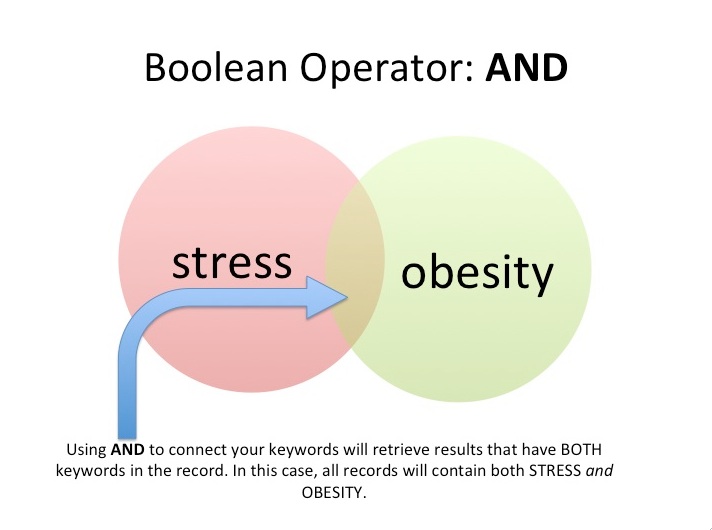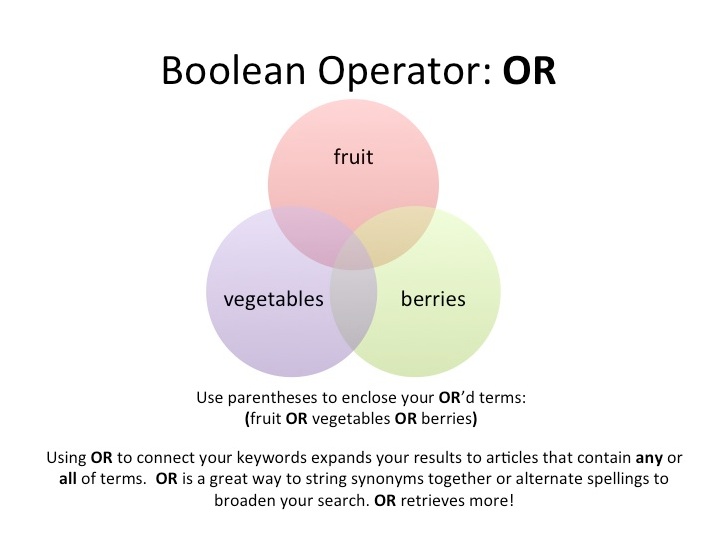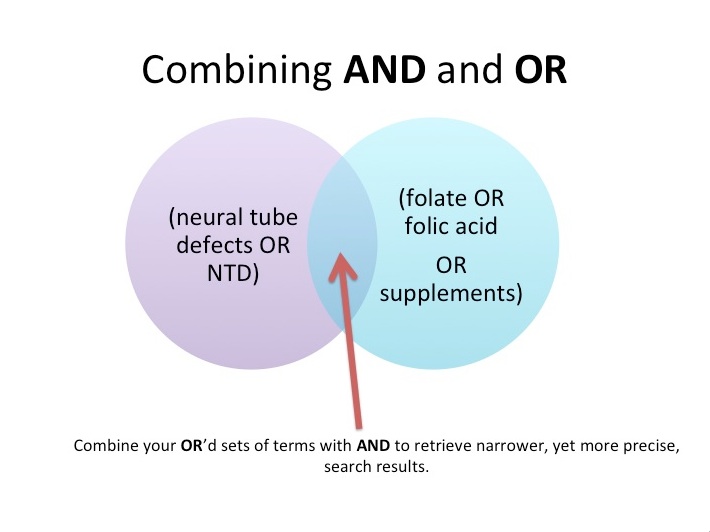 For example, if you want to know "what are some common dietary interventions or treatments for overweight children who have developed type 2 diabetes?" your terms might be
Diabetes

Diabetes mellitus

Type 2 diabetes

Children

Teens

Teenagers

Adolescents

Overweight

Obese

Obesity

Diet

Diet therapy
And your search might look like this:
Diabetes AND "type 2" AND (children OR adolescents) AND (overweight OR obese) AND diet
Or it might look like this (with MeSH terms in PubMed):
"Diabetes Mellitus, Type 2"[Mesh] AND ("Child"[Mesh] OR "Adolescent"[Mesh]) AND "Obesity"[Mesh] OR "Overweight"[Mesh] AND "Diet Therapy"[Mesh]
Going back to our vegans and vitamin B12 topic, a search to exclude any results about vegetarians would look like this*:
(Vegan NOT vegetarian) AND B12
(*However, remember any articles that contain BOTH vegan and vegetarian will be excluded from your results because we specified that we do not want the term vegetarian to appear in the results at all!)
Tip: Each database has its own thesaurus to organize articles on certain topics. Take a look at the database's thesaurus to see if it uses a different term if your search does not yield enough results on your topic.
Tip: Put quotes around search terms that are phrases (contain more than one word). For example, placing quotes around "Mediterranean diet" will locate articles for you in the databases containing the phrase "Mediterranean diet" and should weed out all the articles where those words appear separately from each other (for example, an article about trying to be on a diet while on a cruise ship on the Mediterranean Sea!).
Consider Your Results
Once you do a search in a database, look at the results – are they what you expected?
Too many results means you may want to consider narrowing your search – try adding a key term or concept to your search, or look for other ways to limit or focus your results (publication date, article type, etc.) Look at the results and see if you can determine which articles do and do not meet your needs – look at the titles, the descriptors, and the abstracts – those are the clues to refining your search.
Too few results may mean you were too specific – try removing one key term or concept from your search, try a synonym for the keyword or concept, or try a more general search.
Remember – research is complex and can sometimes be frustrating! Try to approach it as an opportunity to learn – and don't expect to find everything you want right away!
Here are a couple of online tutorials that further explore the techniques in database searching:
Full Text in an Article Database
Some databases provide the full text of some or all articles. If available, you can most likely download, print or email the article right then and there. Look for the words PDF, PDF Full Text, HTML Full Text, or Linked Full Text somewhere around the citation to the article.
Locating Full Text via FindIt@CUNY Button
If you identify an article where full text is not available, try the Findit@CUNY Button. FindIt@CUNY opens a new window, and indicates if your article is available full text in another database that the Brooklyn College Library subscribes to. If it is, simply click the "Full Text Online" link to access the full text. If it is not available full text online, one of the options is to search the catalog to see whether the Library has it in print and/or to request the article via Interlibrary Loan.
Identify Full Text Online Journals via the E-Journals Finder
The E-Journals tab will enable you to determine whether the Library subscribes to a particular journal online e.g. Early American Studies.
First: Click on the E-Journals tab on the Library's home page.
Second: Do a title search for your journal title in the Search for e-journal by title search box. If we do have an online subscription, then you can link directly to it by clicking on the database provided. Note that years of coverage differ among databases, so check your citation.
Identify Print Journals in the Library Catalog
First: Go to the Library Catalog Journal Title Search module search for "Journal Titles" in the CUNY system.
Second: Do a Title begins with search for your journal title in the catalog. If we do have a subscription, click on Brooklyn to make sure we have the issue you need.
Find Full Text Online with a Web Search
Search Engines: You can try searching for your article in your favorite search engine: Google, Bing, etc. — you never know! However, in many cases the full text is only available for a fee. Be sure to check the library's holdings before you pay for any articles!
Search Tip: Put the article title in "quotes" so it is searched as a phrase. Try adding the author's last name.
Results Tip: You may be able to locate an article, but it may not be free. Consider the other options, including Interlibrary Loan, before paying.
Google Scholar: Google's tool for searching scholarly literature usually returns an assortment of citations, links to abstracts, and links to full text. While many full text articles it links to are NOT free, Brooklyn College is part of the "Library Links" program that will link you to full text we subscribe to — so be sure to turn on library links in Scholar Preferences and link to Google Scholar from the library's website so you are authenticated.
Can't Find Your Article? Here are a few things you can do:
Ask a Librarian for help. In person at the Reference Desk (1st floor); Via telephone at (718) 951-5628; Via Chat Reference
Check to see if another CUNY or NYC library has the journal you're looking for, and then go get it. The library catalog will show you journal holdings at other CUNY schools. You can then visit the CUNY school where you article is located. Remember to bring your Brooklyn College Identification Card if you visit another CUNY school's library. You can also check the catalogs at the New York Public Library and Brooklyn Public Library.
Request the article via Interlibrary Loan. Stop by the Reference Desk on the 1st floor for more information, or fill out the form online. Just remember that an ILL request for a journal article can take some time (although it's often available within a few days)—so this won't work if you need it immediately. And be sure to check the Brooklyn College Library's holdings first!
Access resources through Academic Libraries of Brooklyn (ALB). The Academic Libraries of Brooklyn (ALB) is a consortium of eight academic libraries in Brooklyn. This cooperative program allows students, faculty and staff of any ALB member library to use the resources of the other member libraries, including reading and borrowing privileges. You need a current Brooklyn College ID and an ALB card to gain access to ALB member libraries. To obtain a card, consult a librarian at the Reference Desk.
Access resources through METRO. The Brooklyn College Library belongs to METRO, a New York regional cooperative with over 250 member libraries. For a membership directory, click here. Thanks to METRO, the Brooklyn College Library can provide you with occasional on-site access to these collections when your research requires it. A METRO card referral is issued by a reference librarian for the use, at a private university such as NYU or Columbia, of a specific book or journal that is not attainable at CUNY, through ILL, or in the public library. Under another METRO agreement, under very special circumstances, a subject collection may be consulted for a short period. A METRO referral does not allow the borrowing of the material. For policies of individual libraries, please consult the library's web site.
Structure of a scholarly article: Familiarity with the standard parts of an article, what the intent and purpose are of each, will make reading articles easier. This can be especially helpful for scanning an article to see if it is one you want to read more carefully.
Abstract – a summary of the purpose, methods and conclusions that can help you decide if the article is relevant to your research.
Introduction – provides a general overview and background of the study.
Literature Search – a review of research in the area up to the time of the study, giving additional background information and placing the study in its scholarly context.
Materials and Methods – This part is an elaboration of the procedures undertaken from start to finish, focus of the study, and how data are collected and organized to complete the experiment.
Results – a presentation of data gathered in the study, usually with some analysis.
Discussion – the author's interpretation of the results of the study and the conclusions they draw from them.
References – listing of journal articles and other sources referred to by the author in preparing for the study. The references can be an extremely useful way to find additional sources for your own research.
Helpful resources for learning how to read scholarly articles more effectively are:
Short video from Purdue University Libraries
Short PDF paper from SUNY College of Environmental Science and Forestry
In scholarly writing, we are continually engaged with other people's ideas: we read them in texts, hear them in lecture, discuss them in class, and incorporate them into our own writing. As a result, it is very important that we give credit where it is due. Plagiarism is using others' ideas and words without clearly acknowledging the source of that information.
To avoid plagiarism, you must give credit whenever you use:
another person's idea, opinion, or theory;
any facts, statistics, graphs, drawings—any pieces of information—that are not common knowledge;
quotations of another person's actual spoken or written words; or
paraphrase of another person's spoken or written words.
adapted from: Indiana University Writing Tutorial Services http://www.indiana.edu/~wts/pamphlets/plagiarism.shtml
Citation Help: For more on how to write, and cite your sources, try the Purdue Online Writing Lab (OWL) or the excellent Research and Documentation Online.
To use subscription resources from the Brooklyn College Library while off-campus you must authenticate (i.e. log in) using your BC email username and password. When you are off campus and select any licensed electronic resource you will be presented with an authentication page requesting your login.
Students may obtain their BC email ID and password from within BC WebCentral.
USERNAME
Students can get their Brooklyn College student email username and password online at the BC WebCentral Portal <http://portal.brooklyn.edu/>. Clicking on the "My Info" tab, you will find your student email ID.
Student email IDs assigned Summer 2014 or later are your CUNYFirst user ID followed by @bcacad.local, like this: joe.doe01@bcacad.local.
Student email IDs assigned before Summer 2014 are made up of 2 letters and 4 numbers
(e.g. BC1234).


PASSWORD
Your authentication password is your BC email password, which depends on when you enrolled at BC:
If you enrolled in the college starting Summer 2014 or later, your password is the month and day of your birthday plus the last 5 digits of your CUNYFirst EmpID. The format is MMDDEEEEE.
If you enrolled in the college starting Summer 2008 or later, your email password is the month and day of your birthday plus the last 5 digits of your Student ID number (SSN). The format is MMDDSSSSS.
If you enrolled in the college in Spring 2008 or earlier, your email password is your full 9-digit Student ID (SSN).
For more detailed instructions, please see the WebCentral Help page on accessing your email information.
Faculty and staff members use their BC email information to authenticate themselves.
For faculty and staff who do not have a Brooklyn College email account, an application may be downloaded at: http://infotech.brooklyn.cuny.edu/pdf/emailapp.pdf. You may download the Adobe Acrobat Reader for free at http://www.adobe.com/products/acrobat/readstep2.html.
In the space provided, enter your BC email ID and password to access electronic databases from off-campus.
Problems with authentication should be reported to the ITS Help Desk. If you cannot get past the login screen for off-campus access to electronic resources, even if you know you're entering the correct BC email ID and password, you've probably been locked out of the EZ-Proxy server. This is common if you attempt to log in unsuccessfully too many times. In this situation, please contact the ITS Help Desk by calling (718) 677-6180 or emailing helpdesk@brooklyn.cuny.edu. (Please note that the Help Desk's regular hours of operation are 9 AM to 5 PM on Mondays through Fridays.)
RefWorks is an online tool that allows you to:
Format bibliographies and in-text citations automatically
Create your own database of citations
Import citations directly from library databases
Organize your citations into folders
Access your citations from any computer, anywhere in the world
The first time you use RefWorks, you will need to set up an account (see below).
Learn to Use RefWorks
RefWorks Tutorials (take these whenever you want) provide step-by-step instruction. Access the tutorials in RefWorks' "Help" menu or go to: http://www.refworks.com/tutorial/
RefWorks Webinars (register for a specific webinar) - see the webinar schedule at: http://www.refworks.com/content/webinars/default.asp. Webinars include: RefWorks in 15 Minutes, RefWorks Fundamentals, and RefWorks Advanced Features.
RefWorks Workshops at Brooklyn College - Check our website for details.
Create a RefWorks Account
Go to http://library.brooklyn.cuny.edu and click "Databases"
Select "RefWorks" from the alphabetical list
Click "Sign up for an Individual Account"
Complete the New User Information Form:

Enter your name
Create a login name for yourself
Create and confirm a password
Enter your Brooklyn College email address
Indicate if you are an undergraduate student, graduate student, faculty member, etc.
Indicate your major
Type the code you see on your screen
Click "Register"
Note: You must use your Brooklyn College email address. If you don't know your BC email address, you can find it in BC WebCentral Portal (http://portal.brooklyn.edu/) by clicking on the "My Info" tab. Also: If you copy and paste your BC email address from BC WebCentral Portal to the New User Information Form, make sure there are no extra spaces at the end of your address. If there are extra spaces, delete them.
In PubMed, perform a search and mark the references you want to export; use the dropdown menu to Send to "Clipboard," Choose destination, Clipboard, click "Add to Clipboard"
When you are finished with your search session, click on items you have saved in "Clipboard" (upper right of screen)
Once you are in Clipboard, click "Send to" in upper right of screen and in drop-down menu, select "Citation Manager"
Then click on Create File. An ".nbib" file will be saved in your Downloads (or wherever you have indicated downloads to go in your personal settings)
Open a new browser window and Log in to RefWorks with your ID and password
Click on References in the top toolbar and select Import
Select NLM PubMed as the filter; select PubMed as the database
Browse to find the ".nbib" file you saved to your computer (look in Downloads or Recent)
Click Import
Your PubMed records should appear in the RefWorks "Last Imported" Folder.
Ask-a-Librarian online chat 24/7: Click to instantly chat with a reference librarian anytime, any day.
Reference Desk: You can always come to speak in person to any librarian at the Reference Desk during library open hours. Or call the desk at 718-951-5628
Research Consultation: For in-depth research assistance, contact Prof. Lee Ann Fullington, the Health & Nutrition Sciences librarian, to set up an appointment.